The 2020 ECG General Assembly & Spring Congress will be held in Malaga on 14-15 May. The venue will be the Gran Hotel Miramar. Participants are encouraged to stay over the weekend to enjoy this beautiful coastal town and the wonderful culinary and historical opportunities it offers. An optional social and sightseeing programme is available on Friday evening and Saturday morning.
The General Assembly will start at 15.00 on the afternoon of Thursday 14 May with the usual formal proceedings. In the evening a cocktail reception will be held in the local Car and Fashion Museum which be followed by an elegant gala dinner. The evening will conclude with the graduation ceremony of Course 14 of the ECG Academy when successful students will be awarded their Certificate in Automobile Logistics Management.

On Friday morning the Spring Congress will include a variety of interesting presentations, including the usual market outlook from LMC Automotive. A detailed agenda will be published here in due course. The main event will conclude with lunch and a press conference for representatives of the press and media.
As always we have a social programme:
On Friday 15 May a dinner will be organised in the Terraza de la Aduana restaurant
On Saturday 16 May delegates can join a guided walking tour of Malaga city, including a stop for refreshments and tapas, as well as a guided tour of the Picasso Museum.
Note: This event is open to ECG members and our partners only. If you are not sure whether you are entitled to attend, please check with the ECG Secretariat first otherwise your registration could be cancelled and an administration fee will be retained.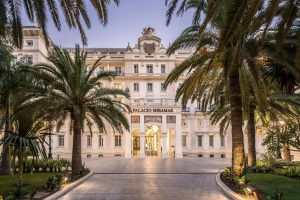 ACCOMMODATION
The event will be organised at the five-star Gran Hotel Miramar where ECG has negotiated a special room rate of €220 for delegates (including VAT).
If you wish to stay here we suggest you book as quickly as possible.